Archive for the 'Stone Cleaning' Category
By On May 3, 2017
No Comments
Natural stone and manmade tiles are an exceptionally popular flooring choice. When contemplating their aesthetic appeal and functionality, it is often easy to see why. With a professional's support, it is also easy to maintain their longevity. With knowledge of routine care, your stone floors will remain looking at their best for their lifetime.
We recently completed a stone floor cleaning job in Chigwell. It was a great opportunity to discuss many aspects of our restoration work. We realised that many make the assumption that stone cleaning requires just the right products and machinery. With these two elements, anyone could clean stone floors, right? Wrong.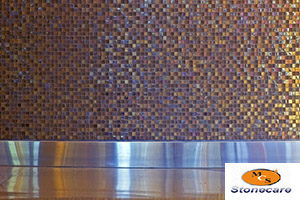 There are many different elements that need to be considered. If particular steps are skipped or if incorrect products are mixed, damage can easily be caused. Your stone floors may be left unsatisfactorily cleaned or damaged with dull areas or worse. Techniques require knowledge and experience to ensure success.
As your chosen Company, we will invest our time and efforts into your stone restoration project. This will make sure that you, our valued client, will receive the best finish for your stone floors. The products we use are carefully selected and will be tailored to your specific requirements. Skilfully restored floors are easier to maintain and will outlast untreated tiles.
Different stone types are more porous than others. This means they interact with different products in varying ways. It also means there are specific products that work better and will offer superior results.
Stone floors are known to be an investment for any property and newly restored floors will bring authenticity and further splendour. Are you looking at your lack-lustred flooring, wondering if it can be brought back to life? Have you got questions about the cleaning process?
We may be able to offer information and advice that will offer assurance in relation to entire process. It will soon become evident our passion for restoring stone flooring and you will be left feeling confident of your choice to select MCS Stonecare. Call today on 01279 866838.
By On December 16, 2016
No Comments
Many see stone floor restoration as an expensive luxury. It is important that we educate individuals as this is certainly not the case.
Restoring stone floors is a complex process but technologies and products have advanced so much over recent times. This means that the service is fast and effective. Once fully restored, it is much easier to keep on top of maintenance.
We will always offer our clients the opportunity to enter into our routine maintenance programme and will offer detail of best-available products for their individual floor. This means that your tiled floor will look at its best, long-term.
Reasons to Restore Stone Floors:
Improved appearance
Protection of a significant investment
Ensuring a healthier living environment
The provision peace of mind
To help potential resale
Installing stone floors is a significant investment. This is part of the reason as to why it is important to keep them clean and protected. If the surface layer of protection is damaged or worn away then it leaves the stone or tile open to deteriorating factors.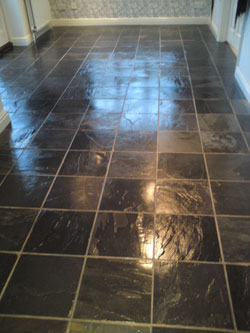 Professional stone restoration means that all coatings are removed and replaced with a top-quality sealer. This stone sealer will act as a protective layer against wear and tear. This, maintained with the correct products and care will make sure the floor remains looking at its best.
With a clean floor you are left with the peace of mind. Let MCS Stonecare take over the cleaning and care of your beautiful floor. What we don't know about restoring stone floors is not worth knowing.
There are a lot of cleaning products available at most DIY stores to clean your stone floors. It is important that you select a product that will compliment your specific floor type. Careful selection will avoid substandard results or even damage.
Many clients get in contact to say that they have struggled with cleaning their tiles or have never achieved a deep-cleaned look. After our services we have many individuals say that they wished they had called us to begin with and not wasted so much time and money. Please call today on 01279 866838.
By On September 1, 2016
No Comments
Have you got a stone floor that requires your urgent attention? It may be that you have invested time searching the Internet on how to clean stone floors.
It may also be that you have ended up more confused than when you started. Some information is available but it can often feel like the exact detail you need is the trades best-kept secret!
This information is aimed to offer an insight into how to solve your stone cleaning issues in a simple and straightforward way… Call on us!
Essentially there is an incredible amount of information available but the process demands a tailored approach. This depends on:
Whether there is damage to the stone tiles
Whether there is staining to the stone floor
What type of floor it is
Whether it is natural stone or manmade tile
What finish you are looking for after the deep clean
This shows very clearly the depth of knowledge required in order to achieve the best, clean tiles. It is a true statement that some stone floor restoration jobs can even provide issues that challenge the best-served professionals.
However, we are able to draw on our experience in order to confidently achieve the best finish possible. We are truly passionate about restoring stone floors and this comes across in all of our communications.
We offer true value for money because it is our aim to complete the restoration process and provide you with information and detail that will allow you to maintain the stone floor in the best way possible.
Need advice on products? This will form part of our advice as this will need careful consideration of your stone type. Products that work for one type may strip the surface off another so it is important that it works to compliment your tiles. Call to get a stone cleaning quotation today on 01279 866838.