A Breakthrough Travertine Cleaning Formula
By On February 1, 2016
Under Travertine Tiles
There has been a clear resurgence of travertine tiles being laid in both domestic and commercial properties. As a natural stone it has become one of the most favoured floor tiles. As time passes, these floors are suffering from daily use and other deteriorating factors that challenge their appearance.
We have devised a breakthrough formula to fully restore these tiles; we specialise in natural stone floor cleaning and restoration and will ensure your floor tiles are deep cleaned with skill and care.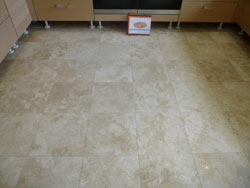 What are some of the problems identified with travertine tiles?
Scratches
Dullness
Pot holes
Lack-lustre look
Our formula is essentially straight forward, however, the intricacies and knowledge required within each element is exactly why we can confidently offer a superior service.
Our Stone Cleaning Formula:-
Specific stone cleaning products + trade machinery + experience = a superior stone finish
Cleaning products: these need to be stone specific. Incorrect product formulations can cause damage to travertine floors so it is important that trade strength, eco-friendly products are selected that will complement natural stone.
Trade machinery: rotary machinery, quick-dry fans, polishing machines and a wide range of other tools are used throughout the process of stone floor restoration. This is seen as one of our largest, but most valuable investments.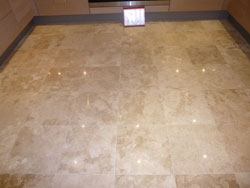 Experience: each job provides intricacies and varying factors that requires a true understanding of the restoration process. These challenges need to be met with confidence to ensure the best possible end result.
Have you got a travertine floor that has suffered from pot holes, scratches or has dirty grout lines? We would welcome the opportunity to provide you with an in-depth survey.
Our quotation process offers detail of the work required and comprehensive detail. We will always offer an agreed cost for the work and our aftercare service comes as standard. Please call today on 01279 866838.