Travertine Tiles Chigwell
By On September 19, 2013
Under Travertine Tiles
A client in Chigwell, Essex had a Travertine floor which needed a large dose of TLC. Over the years the Travertine tiles had completely lost their polished finish and had become nearly impossible to keep clean to the expectation of the client.
This was down to wear and tear, the wrong cleaning solutions used and a maintenance plan not being put in place.
After a test area had been completed, which was chosen by the client, a system of diamond grinding procedures were used to restore the original polished condition and then Stain-Gard SB (Impregnator) was used for protecting the floor against spills and stains.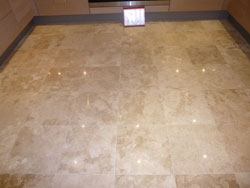 A maintenance plan was put in place to keep the floor looking like-new and so that full restoration would not hopefully be needed again.
The client was overjoyed with the result, especially when previously being told that the floor would have to be replaced until being recommended to contact MCS Stonecare.
We are meticulous about our approach to cleaning Travertine and our specialist restoration process has been tailored over our years of experience to achieve the best possible results. The process is fast, efficient, cost-effective and provides striking finishes to beautiful stone flooring.
If you have any questions about how to clean your Travertine flooring please contact Mark on 01279 866838.