Stone Cleaning Chigwell
By On May 3, 2017
Under Stone Cleaning
Natural stone and manmade tiles are an exceptionally popular flooring choice. When contemplating their aesthetic appeal and functionality, it is often easy to see why. With a professional's support, it is also easy to maintain their longevity. With knowledge of routine care, your stone floors will remain looking at their best for their lifetime.
We recently completed a stone floor cleaning job in Chigwell. It was a great opportunity to discuss many aspects of our restoration work. We realised that many make the assumption that stone cleaning requires just the right products and machinery. With these two elements, anyone could clean stone floors, right? Wrong.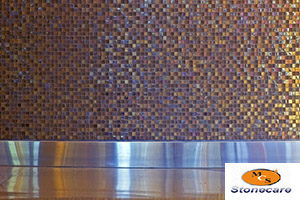 There are many different elements that need to be considered. If particular steps are skipped or if incorrect products are mixed, damage can easily be caused. Your stone floors may be left unsatisfactorily cleaned or damaged with dull areas or worse. Techniques require knowledge and experience to ensure success.
As your chosen Company, we will invest our time and efforts into your stone restoration project. This will make sure that you, our valued client, will receive the best finish for your stone floors. The products we use are carefully selected and will be tailored to your specific requirements. Skilfully restored floors are easier to maintain and will outlast untreated tiles.
Different stone types are more porous than others. This means they interact with different products in varying ways. It also means there are specific products that work better and will offer superior results.
Stone floors are known to be an investment for any property and newly restored floors will bring authenticity and further splendour. Are you looking at your lack-lustred flooring, wondering if it can be brought back to life? Have you got questions about the cleaning process?
We may be able to offer information and advice that will offer assurance in relation to entire process. It will soon become evident our passion for restoring stone flooring and you will be left feeling confident of your choice to select MCS Stonecare. Call today on 01279 866838.