Reasons Why You Should Restore Your Stone Floor
By On December 16, 2016
Under Stone Cleaning
Many see stone floor restoration as an expensive luxury. It is important that we educate individuals as this is certainly not the case.
Restoring stone floors is a complex process but technologies and products have advanced so much over recent times. This means that the service is fast and effective. Once fully restored, it is much easier to keep on top of maintenance.
We will always offer our clients the opportunity to enter into our routine maintenance programme and will offer detail of best-available products for their individual floor. This means that your tiled floor will look at its best, long-term.
Reasons to Restore Stone Floors:
Improved appearance
Protection of a significant investment
Ensuring a healthier living environment
The provision peace of mind
To help potential resale
Installing stone floors is a significant investment. This is part of the reason as to why it is important to keep them clean and protected. If the surface layer of protection is damaged or worn away then it leaves the stone or tile open to deteriorating factors.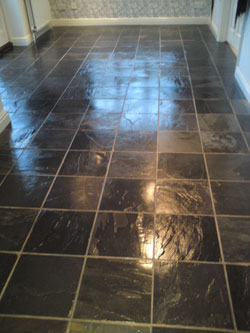 Professional stone restoration means that all coatings are removed and replaced with a top-quality sealer. This stone sealer will act as a protective layer against wear and tear. This, maintained with the correct products and care will make sure the floor remains looking at its best.
With a clean floor you are left with the peace of mind. Let MCS Stonecare take over the cleaning and care of your beautiful floor. What we don't know about restoring stone floors is not worth knowing.
There are a lot of cleaning products available at most DIY stores to clean your stone floors. It is important that you select a product that will compliment your specific floor type. Careful selection will avoid substandard results or even damage.
Many clients get in contact to say that they have struggled with cleaning their tiles or have never achieved a deep-cleaned look. After our services we have many individuals say that they wished they had called us to begin with and not wasted so much time and money. Please call today on 01279 866838.