Porcelain Restoration Billericay Essex
By On May 8, 2014
Under Porcelain Floor Tiles
MCS Stonecare were contacted by a reputable tile distributor based in Essex as one of their valuable clients was very unhappy with the way there white porcelain tiled floor still looked dirty even after hours of cleaning. They had made the decision that they were ready to have a new tile floor laid.
As there was approximately a 100sq metres, the cost and disruption would have been quite considerable.
On contacting the lady of the house, she was quite sceptical about what tile restoration results could be achieved through cleaning. Without making any promises we suggested doing a test cleaning area first on a tiled area of her choice and if this was acceptable we would carry on cleaning.
On the day of inspection, we surveyed the whole floored area and noticed that under a table the floor was quite clean but there were some light grey patches. The traffic lanes were particularly dirty even though the porcelain floor had just been cleaned.
We were pretty sure what the problem was as we had come across this type of scenario many times before.
This type of build-up of soiling and porcelain marks are usually due to a couple of major factors and can happen on Anti-slip or Riven tiles. These important measures, we believe, had not been carried out on this tiled floor.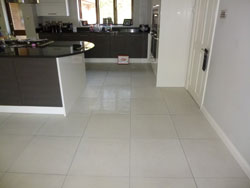 1) Firstly a good quality impregnator protector should be applied prior to grouting which will help prevent grout residue sticking to the tile and will help in making it easier to remove.
2) After the tiled area has been cleaned, again the impregnator should be applied to help the clients' task of keeping their floor clean with routine maintenance.
After the area had been chosen to do a test, it was first cleaned using an alkaline cleaner in conjunction with our Clean & Capture equipment. Soiling had built up on the grout residue left on the tiles from grouting and had not been cleaned off properly by whoever had laid the floor.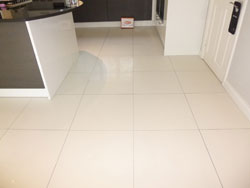 An acid cleaner was then used in conjunction with the Clean & Capture equipment again leaving a beautiful clean area, in which the client was stunned by the result.
The lady of the house happily let us carry on cleaning the tiles replicating the same procedure throughout the 100sq metres of flooring.
After drying, Stain-Gard SB Impregnator was then applied to help protect the porcelain tiles and for easier maintenance; the client was absolutely delighted with the finished result.
If you have any questions about cleaning or restoring your porcelain flooring please contact MCS Stonecare on 01279 866838.