Stone Floor Cleaning Essex
By On October 13, 2017
Under Natural Stone
We were invited to fully restore this beautiful sandstone floor in The Bull Pub, Essex. This lovely country pub, out in the Essex country side, had a real problem with their sandstone flooring. The stone floor carried right through the whole pub including restaurant and toilet areas.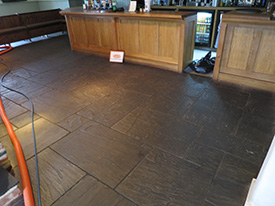 These pictures were taken a few years ago as now MCS Stonecare re-clean the floor 2 x a year as part of a maintenance plan so that the pub floor always looks great and is easier to clean for the in house staff on a daily basis.
We were called to have a look at the stone flooring as attempts by other companies to clean it were not successful. Grease walked in from the kitchen area and an insufficient cleaning practice was the main problem, which had built up quickly in a very short period of time.
As always the first thing we did was a test patch to find the best solution to clean the floor. Grinding using carbon brushes was an option but the most cost effective way was to scrub a high alkaline solution on to the tile using a rotary floor machine.
High heat pressurised water using the Clean & Capture machinery was used to extract the remaining residue (on no account could acid cleaning solutions be used in this procedure as the pointing was constructed from Limestone and would have dissolved).
The test area was then dried and a water based impregnator was applied to protect the floor and to make it easier to maintain.
The client was amazed at the result of the test patch and a date was set for us to return and clean the floor. The same procedure was carried out as done with the test patch for the whole floor. Our client was delighted with the outcome and asked us about a maintenance clean programme which we did and have continued to do ever since.
Contact us today to enquire about our specialist services for cleaning stone floors on 01279 866838.