Marble Polishing Hornchurch
By On March 28, 2017
Under Marble Polishing
Our marble polishing services are both exhaustive and comprehensive. We are trained meticulously in how to approach any particular marble polishing job. We take great pride in our work and have been able to hone our trade through extensive experience.
Diamond grinding is the beginning stages of stone floor restoration. Both surface contaminants and deep scratches can be removed during this process. How is this managed? Diamond abrasives are used to grind the surface of the marble tiles.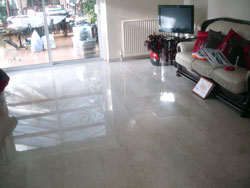 This is a multiple stage programme which needs to be tailored in relation to the particular floor. Marble floor tiles are incredibly versatile floors and offer a truly durable flooring option. This, however, provides a challenge when restoring them. Marble in its very make up offers varying challenges but yields exceptional results.
As the top layer is removed it offers a honed finish to the tile. Although it is likely that the stone finish will have been decided prior to this point; this is the point at which this needs to be decided. A honed finish will require less stages and a more-polished finish will require additional stages.
This then works to offer a finish, free from scratches and marks. Either way, the marble tiles are then ready to be fully sealed. This is the end part of the process that leaves the marble floor with resistance against wear and usage.
It is fair to say that this entire process requires a skilled approach. It is time consuming and demands a highly-trained approach. This is part of our passion for stone floor restoration. We will always go the extra mile to offer seamlessly restored marble flooring. Are you considering a marble polishing project? Please call us on 01279 866838 to arrange a survey. It is our opportunity to offer information and advice that will offer further benefit to your project.