Marble Floor Polishing Hatfield Heath
By On February 4, 2013
Under Marble Polishing
The client on this job wanted a high shine on her marble floor in Hatfield Heath which continued throughout the ground floor of the house .
Here is what the marble floor looked like when we arrived.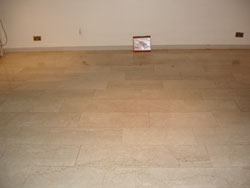 On inspection the floor was in poor condition and I was amazed to be told that the floor had been apparently been Diamond Grinded and Marble polished only a few years ago by another company before being recommended to contact MCS.
If this floor had been properly Diamond grinded and polished , there would have been proof of this such as along the corners and edges of the rooms and underneath furniture where there is not any foot traffic, the finish would not have deteriorated without wear, and with a maintenance plan put in place the floor would have always look stunning .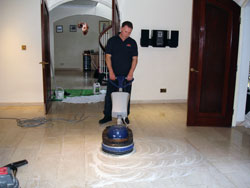 Unfortunately there are a few quick fix solutions that are about which in my opinion are not very good in the long run and will not last.
After going through the Diamond grinding process, marble polishing powders were used to create that extra shine and give a natural protection and finally after drying, Stain-Gard SB(Impregnator) was applied leaving a beautiful finish.
Find out more about Diamond Grinding or Email us your questions on marble floor restoration