Honed Limestone Tiles Chelmsford
By On October 22, 2014
Under Limestone Tiles
MCS Stonecare were called to a domestic property in Chelmsford, Essex to inspect approx 50sqm of Honed Limestone flooring which was laid 10 years prior. The concerns of the clients was that the floor was badly marked with scratches, drink spillages and always appeared to look dirty, even after it had been just cleaned.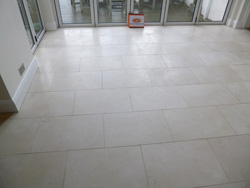 The clients loved the limestone floor when it was first laid but they were not given any guidance by the parties involved as how to look after and maintain it. They had become so disappointed with the floor now that they were prepared to rip it up and have it replaced, which would have been a travesty and would have also cost a fortune.
We assured the clients that this drastic action would not be needed and we would be able to restore the floor to its former glory and advise how to maintain it.
Firstly a test area was selected by the client in the worst damaged area to restore. The area was wet diamond grinded and brought to a finish removing all scratches and marks and leaving a smooth, Honed-finish. The area was then cleaned and dried and our specialist Stain-Gard SB(Impregnator) was applied after for protection.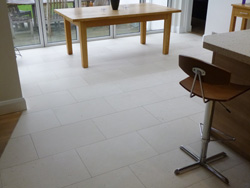 The clients were delighted with the result of the test area and were eager to book their floor in to be done and a date was set.
The floor was fully restored using the same method as done in the test area with the clients stunned with the finished outcome. The finished floor will now be easy to keep clean, and cleaning advice and a maintenance plan was put in place so full restoration on the floor would not be needed in the future.
If you would like to book in an inspection or have any questions about restoring limestone we would invite you to call MCS Stonecare on 01279 866838.