Tile Cleaning Services Hertfordshire
By On February 27, 2017
Under Customer Service
Our services are comprehensive and range from:
Cleaning
Polishing
Protection
These provisions are offered for all stone floors, tiles and hard services. Part of the process is to instruct a survey. Why instruct a survey?
There are a range of reasons as to why a survey is needed. These are supplied as standard, if required. This provision offers an insight into the anticipated results and inevitably provides us with the opportunity to showcase our expertise.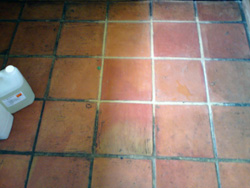 From our client's point of view it is also an opportunity for them to get to know us and to see our professional approach. What information are we gathering?
The process helps us define the exact material that needs cleaning. It may be that different surfaces require a tailored approach. It will also allow us to identify and equip ourselves for any possible unforeseen challenges.
Once completed it will also allow us to accurately assess the amount of time that the job will take to complete. Alongside this, actual cleaning allows us to select the best-available equipment and products.
The process allows us the opportunity to discuss what items of furniture are required to be moved. Our work is completed in a more timely fashion if the room is entirely clear on our arrival. Skirting boards and fireplaces will be fully protected to ensure they are kept clean during the process.
For us it means that we are able to locate your property and analyse parking and water access. Clarity on these elements allows us to provide a fast and efficient service.
All of these elements combined above mean that we are able to accurately price any job. This is important for so many reasons. It will ensure that our clients are getting the absolutely best price for the best-possible finish.
Restoring stone tiles requires a range of information, expertise and understanding. Our survey process offers an insight into our professional approach. If you would like to arrange a no obligation survey please call today on 01279 866838.